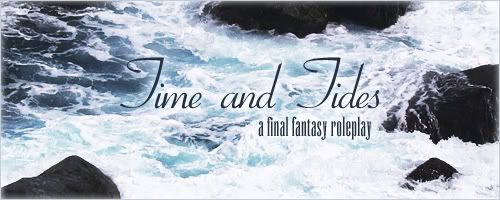 ◊ . . . back home, the skies were never this blue . . . ◊
You wake up to find yourself met with the sight of sprawling fields and open skies. The air is crisp, clean. It could just be a trick of the wind, but you think you can hear the distant din of the ocean, the rise and fall of crashing waves. For a moment, you're not sure where you are or even who you are, but somehow you know that you're very far from home.

Slowly, it begins to come back to you.
Your life, the people you knew, all the things you did and did not do.

The last thing you can remember is the sky filling with a blinding light.
Then, nothing. Then now. Here, waking up.

What in the world is going on . . . ?
◊ Game Info ◊
timeandtides is a laid-back, log-based Final Fantasy roleplay set in Gaia of the FFIX era. Characters from any Final Fantasy game (I through XII, Tactics, the VII Compilation, and more) are welcome, so please come and have a look around!

|| PREMISE || TAKEN CHARACTERS || RESERVATIONS || APPLICATIONS ||
|| RULES || FAQ || SETTING ||